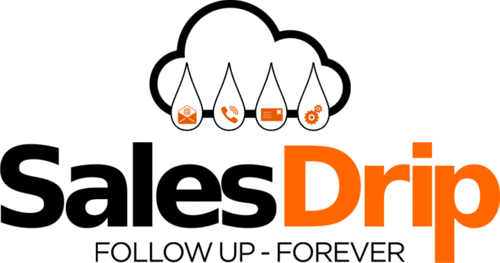 Your volume of new customers is in direct proportion to the volume of leads you are consistently nurturing.
If your Sales Funnel is too small, it is most likely the result of the
| | |
| --- | --- |
| | Watch this video to lean why your sales funnel is small. |
---
Sales & Marketing Automation CRM Designed Exclusively for the Freight Industry
Increase Your Sales Funnel By 450%
Hi, I'm Tom Acklam. I founded SalesDrip to provide a CRM solution to help freight carriers, brokers, and forwarders sell more freight services.

In my 20 years of freight industry experience I have been a freight sales rep, freight sales manager, freight company owner, and, after selling my freight companies, a highly-paid freight sales consultant.

In 1998 I pioneered a first-of-its-kind automated sales & drip marketing system, to help my sales team become more efficient at nurturing qualified leads and growing our sales funnel. The system dramatically increased sales by increasing sales rep productivity and brand awareness.

This CRM system fueled the fast growth of my shipping companies, and over the years its allowed me to learn exactly what works, and what doesn't. I've now used the latest marketing technology to further improve this solution, and the result is the SalesDrip™ CRM Freight Sales System.

Now you, too, can dramatically accelerate your freight sales at a fraction of the cost of hiring additional sales reps by using SalesDrip.
Boost Sales
- Grow Your Sales Funnel by 450%
- Continuously Nurture Leads
- Improve Lead Conversion
Boost Awareness
- Automate Drip Marketing
- Deliver Targeted Messages
- Drive Leads To Your Website
Boost Productivity
- Gain Insight To Lead's Insights & Buying Signals
- Automate Call Reminders
- Automate Repetitive Clerical Tasks & Reporting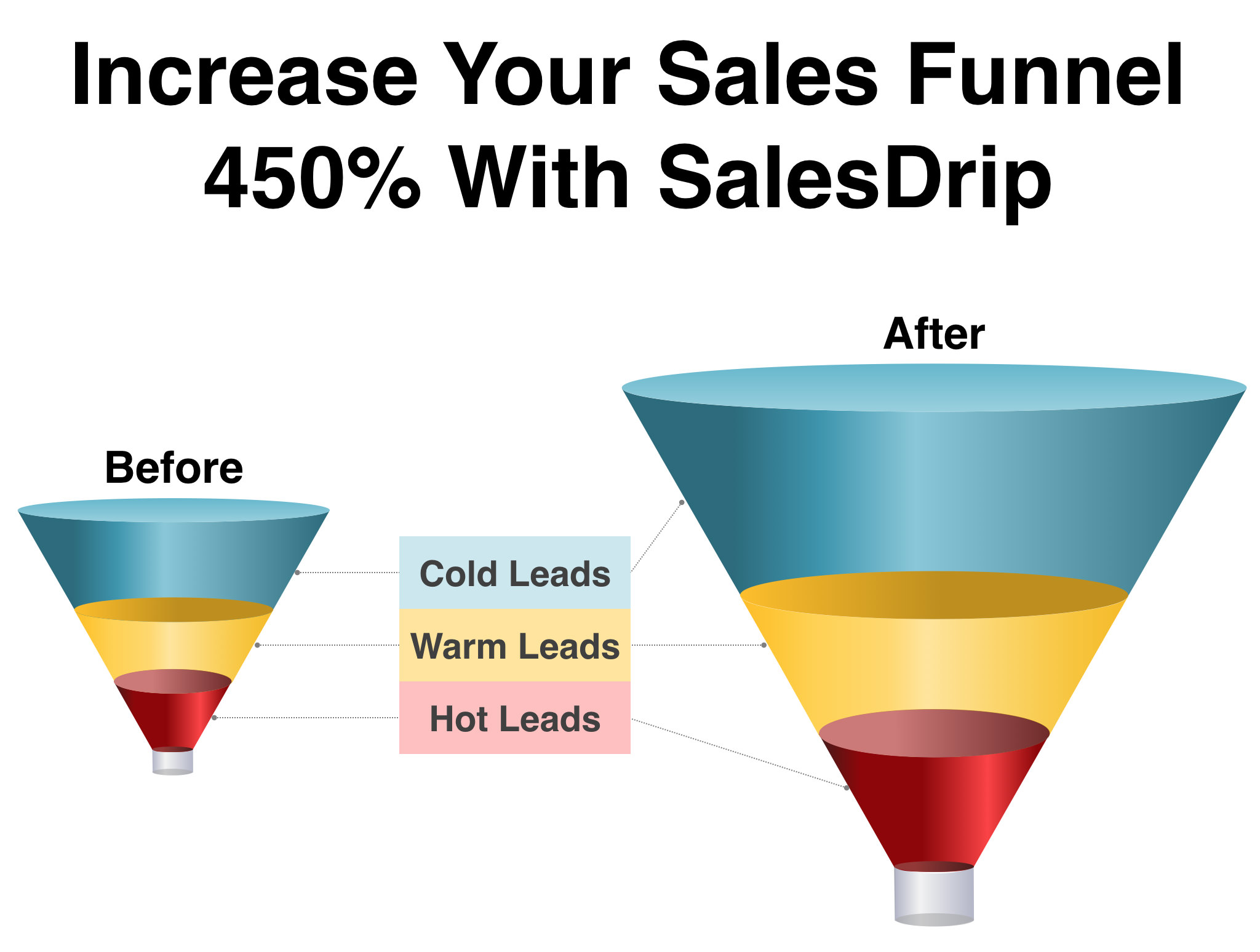 SalesDrip enables each sales rep to manage 450% MORE LEADS in the same amount of time. We do this by automating the repetitive manual tasks required to continuously nurture a lead.
No one can pin point the exact time that an opportunity will arise. Therefore, the sales rep must keep your brand in front of each lead on a continual basis. When a sales rep hits capacity due to time constraints, they naturally prioritize the warmer leads and drop the cold leads. Dropping a lead means the cost of identifying and nurturing that lead are wasted and the future revenues of that lead are lost. This decreases revenues and profitability.
Below is a comparison of manual tasks a sales rep needs to perform to successfully follow up with a lead for 6 months.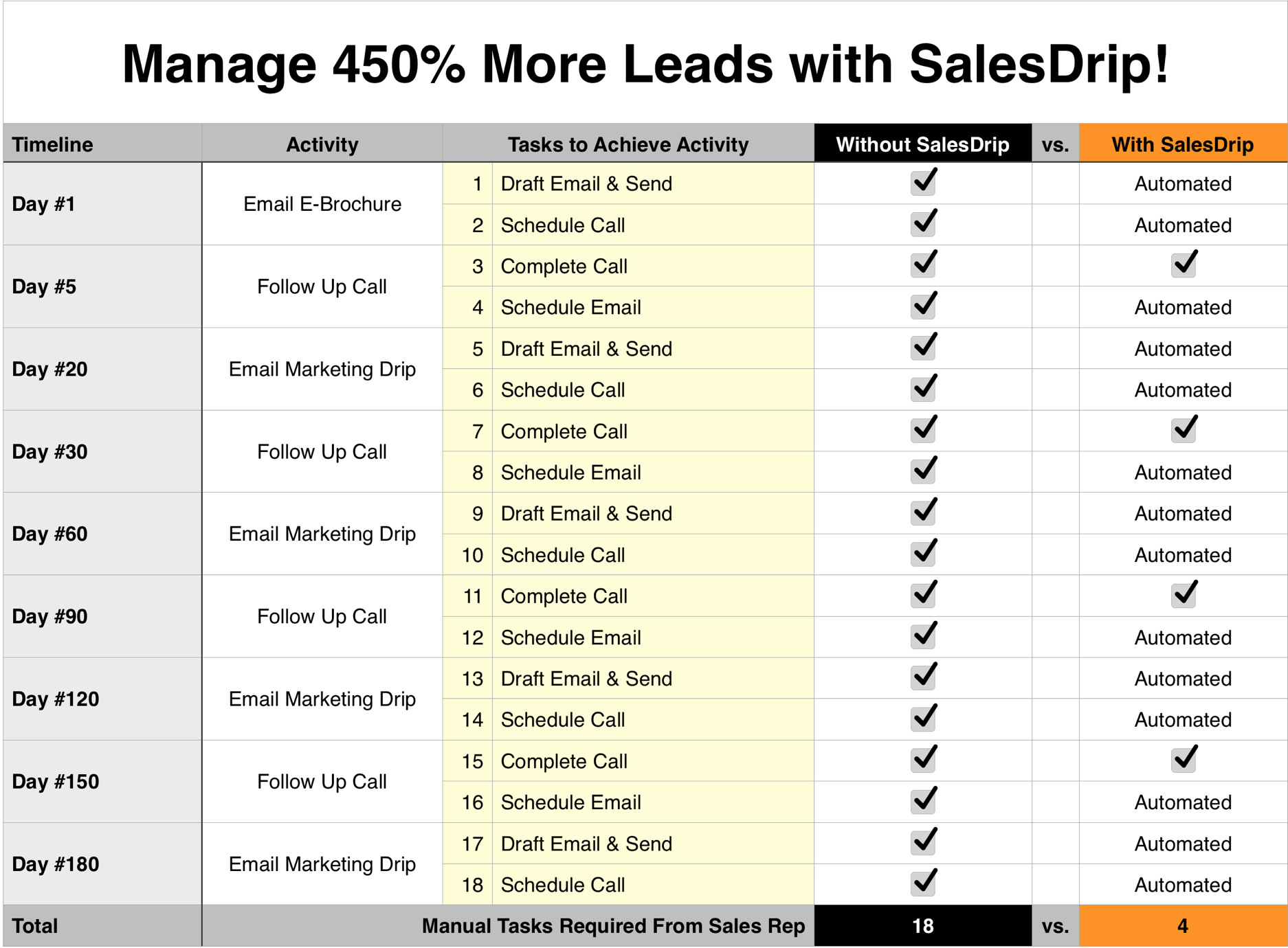 How a Sales Rep uses SalesDrip:
Step #1 - Start Automation on a Lead
Step #2 - Call the lead when prompted
Step #3 - Contact the lead when a "Hot Lead Alert" is emailed to the rep
Sales Rep Testimonials

"SalesDrip helped me organize and visualize my leads. I'm significantly more productive"
- James

"I love that it is so simple to use!"
- Christine

"Receiving the Hot Leads Alert helps me indentify which leads are actively reviewing our content"
- Scott

Sales Manager Testimonials

"The entire setup, on boarding and training was very smooth"
- Phil

"The daily activity summary email helps me keep tabs on everything happening in the system"
- Margaret

"The volume of leads in our sales funnel has grown significantly since we started SalesDrip"
- Mike
My Offer to You
If you are ready to increase the size of your sales funnel and stop the dropping of cold leads, tell me about your company and sales goals on the next page and I'll personally reply via email.
Easy and helpful. No sales pitch. No live call pressure. No wasted time. Spend just 5 minutes to find out whether I can help you use SalesDrip to meet your objectives. If SalesDrip can help your business, and if you like my answers, then we'll schedule a call.
I want to help you dramatically increase your freight sales using SalesDrip. Are you ready?
Find out if SalesDrip can accelerate your freight sales!

An honest admission: SalesDrip is a highly specialized system that works well with certain types of sales models. If we're a good fit you'll see great results. But it also means that SalesDrip can't help every business. If that's the case I'll tell you right away. SalesDrip only takes on clients for whom I know the system can deliver great results. If I have to turn you down I'll do it gently and try to point you in a better direction.
Increase Your Sales Funnel by 450%